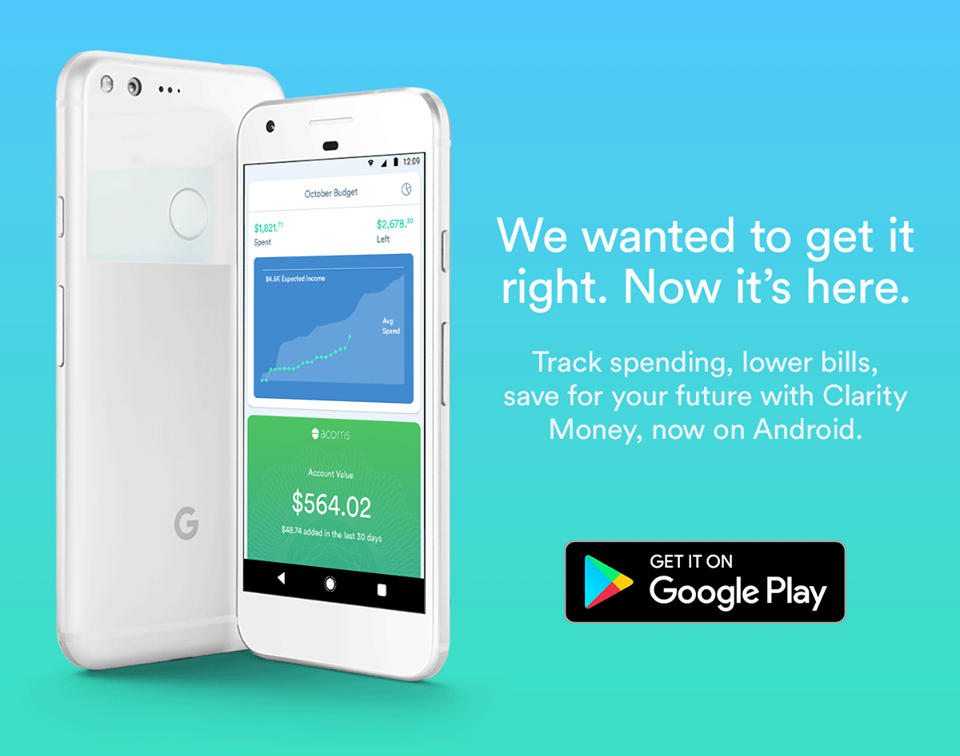 Clarity Money, a personal finance manager that helps users save money, launches on Android
It can be a pain juggling all of your monthly expenses and credit card balances, especially if you have more than one bank account to track. That's why earlier this year an app called Clarity Money launched (exclusively) on iOS, hoping to make it easier to manage bills and income. At the time, the company hinted at plans to eventually release the app on other platforms. That's why Clarity Money is now launching both on Google Play and as a standalone web application.
Clarity Money works similarly to Mint and other personal finance apps. But in addition to being able to link a user's bank accounts and automatically categorize their expenses – something most personal finance apps already do – Clarity Money is also trying to save its users money by helping them take smarter financial decisions.
It's no secret that companies are big fans of monthly and yearly subscription plans: people are far more likely to continue paying for a service through a subscription model than they are s 'they had to make a conscious decision to pay every month. By removing the friction and thought process involved, purchases effectively become opt-out instead of opt-in. This makes it easy to rack up hundreds of dollars in monthly payments, which is why Clarity Money presents users with an overview of all their subscription services, allowing them to cancel any right from the app – and potentially saving a significant amount of money.
Clarity Money can also recommend better credit card deals based on a user's spending habits, and even identify negotiable bills and automatically attempt to obtain a lower rate. Using these methods, last year's 1,000 beta users were able to save an average of 0 through Clarity Money.
The application itself is quite simple and easy to configure. It's also completely free to download and use (with no in-app purchases either), so there's no reason not to download it and check it out for yourself.
Edit: As a few readers have pointed out, the app is unfortunately US-only. As someone who has just moved from Europe to the United States, I know all too well the frustration of not having access to a product or service due to my geographic location.
PRESS RELEASE
Clarity Money launches on Android and web app
New cross-platform offerings empower consumers to make smarter financial decisions anytime, anywhere
NEW YORK–(BUSINESS WIRE)–Money Clarity, the personal finance app that acts as "Champion of Your Money", today announces the launch of the app on the web and Android devices. Clarity Money is currently featured in the Google Play App Store under the "New and updated app"Category.
The expansion of Clarity Money to new devices means the brand will help even more users make smarter financial decisions.
"We created Clarity Money to help people be proactive about their money and improve their financial future," said Adam Dell, Founder and CEO of Clarity Money. "Expanding Clarity Money to be available on three platforms means more people are armed with an unbiased lawyer to help them navigate their financial lives."
Shortly after its release in January, Clarity Money was featured in Apple Inc.'s App Store as one of the "New Apps We Love" of 2017. The expansion to new platforms was a Next step needed as Clarity Money's consumer insights team reported increased demand from non-iOS users. These enhancements are the latest in a series of offerings that give Clarity Money's more than 600,000 users complete and instant access to their personal finances.
"Clarity Money is always looking for ways to improve the consumer experience, especially when it comes to understanding our users," said Melissa Manne, vice president of product management for Clarity Money. "As the demand for our technology and services grew, our team realized that this was the next step to not only increase our reach, but also to further our mission of helping people access responsible financial management tools."
About Clarity Money
Clarity Money is a personal finance mobile app that acts as your financial champion. Ushering in a new era of mobile personal finance management apps, Clarity Money uses artificial intelligence and data science to help consumers make smarter financial decisions and get the most out of their money. Breakthrough features let users cancel and reduce bills, get a better credit card, get their credit score, and create a savings account, all from the app, and all by pressing a button. Launched in 2017 by venture capitalist and serial entrepreneur Adam Dell, Clarity Money is backed by leading investors including Citi Ventures, RRE Ventures, Soros Capital and Bessemer Venture Partners. To learn more about Clarity Money, click here.
Google tweaks its launcher in Android 13 DP1 to accommodate a foldable Pixel
It now supports two independent layouts at different screen sizes
Read more
About the Author